Frequently Asked Questions About Wedding Photography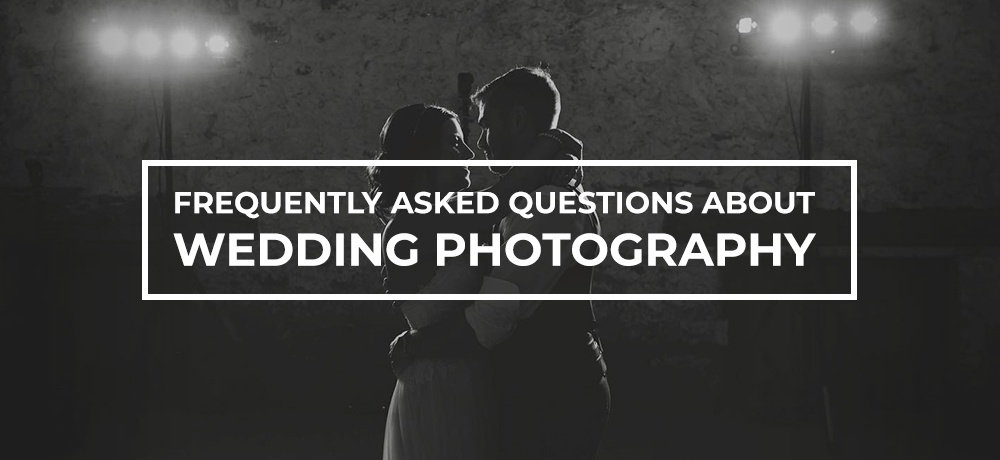 Hiring a wedding photographer to capture moments that you will cherish for a lifetime is a major decision. However, you may postpone making a final decision as you have a ton of questions about wedding photography services, and finding answers to these questions may be difficult to come by. To provide some peace of mind and ensure that you are equipped with the most accurate information available, the Devon C Photography team has done our best to answer some of the most frequently asked questions about wedding photography.
1. How many weddings do you shoot in a typical season?
I typically limit my weddings to 25 per season. I am a firm believer in quality over quantity and a certain level of customer service just isn't possible when you've overbooked yourself. This is something that inexperienced photographers often learn the hard way in their first few years of operation.
2. How many edited photos will we receive?
While there really is no perfect formula and every wedding is different, a good estimate is between 50-75 photos per hour. We also provide duplicate black and white edits of most photos in the album.
3. When will we receive our engagement session or wedding day photos?
Engagement session photos are typically edited and delivered within 2-3 weeks unless otherwise specified. In the winter or "off-season," turnaround time is roughly 1-2 months. During peak season (May-October), turnaround can take 2-3 months when our weeks are filled with planning for and shooting your beautiful wedding!
4. Do we need a second photographer?
I have shot a number of weddings as a solo photographer and even more with a second shooter. From my experience, having a second on the day always ends with better results. The pros of having a second photographer are many, but I'll list three very key points:
a. You can be sure that every moment and every angle will be covered: One photographer can only be in one spot at a time, and two cameras are better than one. This is especially true if you've decided to do a first-look and during timely moments like your ceremony.
b. More candid photos: While the primary photographer is directing members of your family or wedding party, the second shooter takes candid photos and can capture those moments between different setups.
c. Bride and Groom prep photos: Having two photographers enables more coverage of you and your wedding party getting ready in the morning. Each photographer can begin in separate locations, meeting at the venue before the ceremony, instead of a single shooter wasting precious time traveling to multiple locations and making it back in time for the ceremony
5. Should we do a first-look?
First-look photos have become increasingly popular in the last few years and for good reason. I think the best way to answer this question is to lay out some of the pros and cons and help you come to your own decision.
Pros:
a. The moment is truly genuine and candid. There's no faking the emotions you're going to feel when seeing your partner for the first time.
b. There aren't a lot of times during the day where the two of you get to be more or less alone together. During a first look, it's just the two of you and your photographers.
c. It allows you to enjoy more of the cocktail hour with your guests and be more flexible with your itinerary.
d. It can help to get rid of some of those pre-ceremony jitters.
Cons:
a. If you've always imagined seeing your future spouse walking down the aisle, then maybe you don't want it any other way. Don't risk regretting your decision by following something trendy and not trusting your gut.
b. They have to be carefully planned and often require a third location.
6. What is the most important element to get amazing wedding photos?
Time and preparation. Make sure that when you go over your itinerary with your photographer, venue, and day-of coordinator that you allow for at least 1.5-2 hours of photos either after your first look or after your ceremony. This ensures that you can capture everything from family portraits to the bride and groom photos. It's better to leave yourself with more time every time, and the last thing you want to worry about is something that you could have planned for ahead of time.
7. What kind of equipment do you use?
Every second shooter that I have ever partnered with use modern, full-frame professional DSLR cameras. You can also rest assured that we carry multiple sets of equipment should one have a malfunction on your day. With that being said, the most important aspects of your photographer are their experience, skills, and creative eye. So don't be fooled by a fancy-looking camera until you've seen a great portfolio and heard from previous couples.
8. Do you edit your engagement and wedding photos?
Yes! We carefully curate and edit all of your albums by hand. Now, if you require photos to be finished ahead of schedule, we also partner with trusted Canadian editing teams that can take on the extra load.
If you have any more questions about wedding photography, get in touch with Devon Crowell at Devon C Photography. As a wedding & engagement photographer in Kitchener, ON, I am committed to delivering a quality of service and artistic expression that exceeds your expectations. While I provide professional wedding and engagement photography services, I even offer family portrait photography and Branding photography to clients across Kitchener, Cambridge, Waterloo, Guelph, Hamilton, Burlington, London, Stratford, Collingwood, St. Jacobs, Barrie, Saugeen Shores, Goderich, Toronto, and the surrounding areas.
To learn more about how I can help you, please click here or contact me by clicking here.